A guiding light
Clara AC 2-channel with corridor function allways shine a little
– and more when needed.
2-channel solution for corridors
Easy and safe mounting with connectors
Long life time, 50 000 h (L80B10)
---
No driver
230VAC – No need for a driver
You are able to connect the LED-module directly to 230VAC mains and won't need a bulky driver.
This allows freedom to design slim fixtures without making place or need extra cables for a driver.
And without an extra component there is less risk of failure.
---
Corridor function
2 channel solution – perfect for sensor lights
The Clara AC and Svea AC with corridor function has a 2 channel solution with the option to keep a security light at 200 lumen always on.
---
Consistant form factor
Hexagonal shape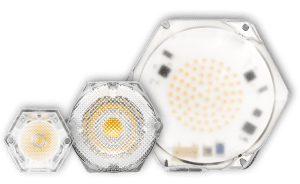 The hexagonal modules are designed to fit in round, square or hexagonal fittings.
The hexagonal designs are available in three different versions – Felicia, Clara and Svea.
The form factor is consistent over time, and is easy replaceable since the mounting holes are the same year after year.