---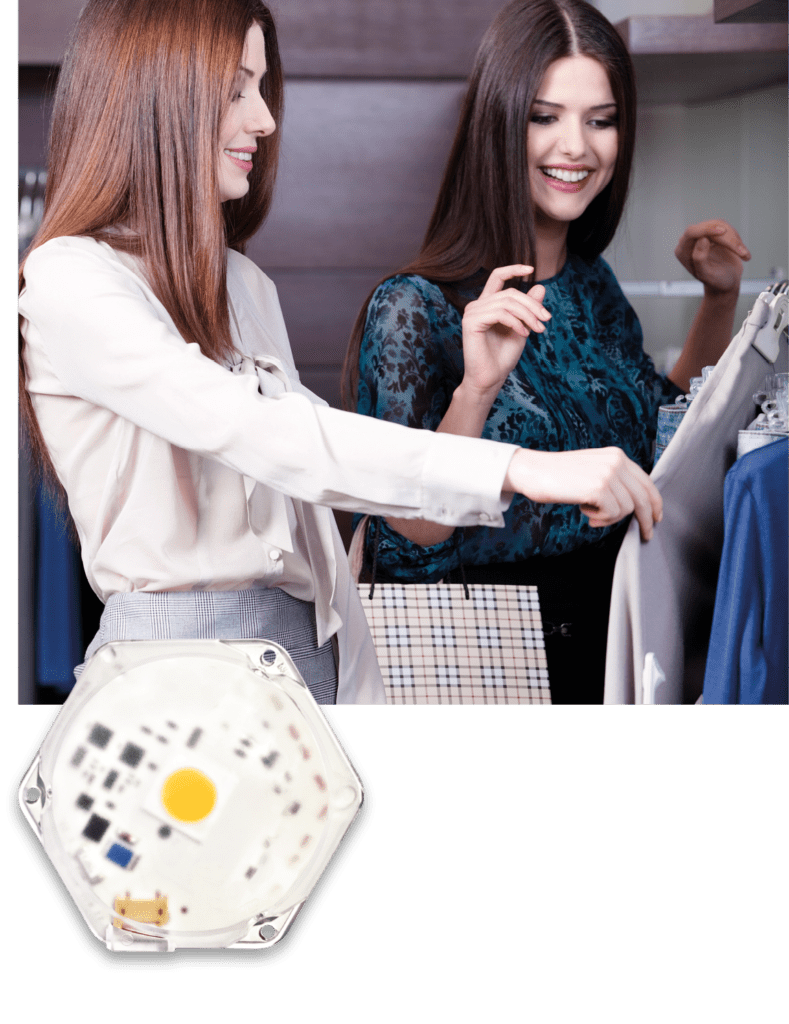 Features
•  FlickerFree (option)
•  Zigbee (option)
•  Bluetooth (option)
•  Suitable for retail and medical applications
•  Up to 3000 lumen
•  Available in CRI <Ra80 and <Ra90
•  CCT 2700K, 3000K, 4000K and variable CCT
•  Easy and safe mounting with connectors
•  Long life-time 50 000 hours
The new OptoDrive™ SVEA is now even more flexible and offers both WireLess and FlickerFree solutions for the lighting industry.
Perfect light from warm white to cool white , easily fitted into light fittings such as downlights, spotlights, ambient fixtures etc.
Svea is used where high light levels are necessary from a compact source only 80 mm, corner to corner. It contains the most powerful LED's and has total cost saving like no other LED solution. This gives designers and construction consultant's freedom to create unique solutions as the Svea is a high intensity light source with minimal space requirements.
New WireLess SVEA

SVEA is now equipped with a card slot-in to give great possibilities for wireless control via the ZigBee protocol. Several manufacturers have joined the ZigBee alliance which gives huge potential for the end-user to build their own light-control system in their home. Works with Philips Hue and Osram Lightify.
There will also be bluetooth and other sensor cards available for the new slot-in module.  A simple and flexible solution as always with OptoDrive™.
New FlickerFree SVEA
All light sources for 230VAC has some kind of flicker with the frequency 100Hz (120Hz in the US), even incandescent bulbs. Though the eye at it's best can detect flicker up to 80Hz, the mind can feel it up to 500Hz according to research.
OptoDrive™ AC-modules uses advanced electronics to shorten the time intervals when the LEDs are off. This gives a more pleasant light, and a lower flicker index.
In the new FlickerFree modules we have taken a step further to even simulate afterglow, which have that effect that the LED never is completly off. That makes the flicker practicly disappear. In places with high demands on work environment regulations SVEA FlickerFree is the natural choice.
SVEA
Svea AC
COB
Svea AC
42LED | 72LED
Svea AC
72+12LED
Svea ED
77LED
Svea ED
12LED
Svea ID
7LED
Svea ID
12LED
Svea ID
12LED CCT
Power
(Watt)
20W
30W
40W
12W
20W
32W
2/23W
(2 channel)
9W (350mA)
18W (500mA)
25W (700mA)
14W (350mA)
20W (500mA)
27W (700mA)
10W
15W
17W
30W
15W
(30W)
Voltage
(Volt)
230VAC
(No driver required)
230VAC
(No driver required)
230VAC
(No driver required)
-
External driver
-
External driver
30-36VDC
(Internal driver)
24-36VDC
(Internal driver)
24-36VDC
(Internal driver)
LED
(Quantity)
COB
42 | 72
72+12
77
12
7
12
12
CRI
(Ra)
>Ra80
>Ra80
>Ra80
>Ra90
>Ra90
Ra:96
R9:98
Ra:96
R9:98
Ra:96
R9:98
CCT
(Kelvin)
2 700K
3 000K
4 000K
2 700K
3 000K
4 000K
2 700K
3 000K
4 000K
2 700K
3 000K
4 000K
2 700K
3 000K
4 000K
4 000K
4 000K
3 500-4 500K
Adjustable CCT
Optics
(Degrees)
130°
130°
130°
130°
17°
85° TOD
9°
12°
9°
12°
16°
22°
9°
12°
16°
22°
Light output
(Lumen)
2 200lm
3 100lm
4 000lm
1 100lm
2 000lm
3 000lm
200/2 000 lm
1 000lm (350mA)
1 500lm (500mA)
2 100lm (700mA)

1 000lm (350mA)
1 250lm (500mA)
1 600lm (mA)
750lm
1 000lm
1 500lm
2 500lm
1 170lm
(2 340lm)**
Dimmable
Yes
Yes
Yes
Yes
Yes
Yes
Yes
Yes
IdealApplications
Spotlight
Ceiling
Outdoor
Ceiling
Sensor light
Ceiling
Outdoor
Downlight
Tasklight
Spotlight
Medical
Medical
Medical
Optional
Flickefree*
Expansion port*
Ra90
Ra90
Accessories
External driver required
External driver required
DimLight Pulse
DimLight Switch
DimLight Flexswitch
DimLight Dali

DimLight Pulse
DimLight Switch
DimLight Flexswitch
DimLight Dali
DimLight CCT
Datasheet SVEA AC COB
Datasheet SVEA AC
Datasheet
SVEA AC 72+12LED
Datasheet
SVEA ED 77LED
Datasheet
SVEA ED 12LED
Datasheet
SVEA ID 7LED
Datasheet
SVEA ID 12LED
Datasheet
SVEA ID 12LED CCT
*Coming soon
**Digitally dimmed